Now there's a quick and easy way to create professional looking banners right from your desktop with just a few mouse clicks
Even if you don't have a lick of graphics experience, you can point and click your way awesome looking banner ads!
WATCH HOW EASY IT IS TO CREATE A BANNER!
Dear marketing friend...
Even if you've never lifted a finger on any banner design before, you can quickly and easily become an "OLD PRO" with this super simple banner software tool...
Banners are a really easy and effective way to advertise your product or service...
Now with Banner Generator it has never been easier to quickly create a professional looking banner directly from your PC in just minutes...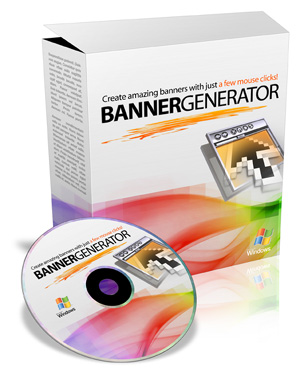 With Banner Generator You Will Be Able To...
Quickly And Easily Create Professional Looking Banners
Create Animated Banners With One Click
Select Pre-Made Banner Or Custom Banner Sizes
Create Endless Combinations Of Background Effects
Select From Dozens Of Pre-Made Icons And Images

BANNER ADVERTISING IS
A HUGE BUSINESS!
In fact...
Google has an ad service dedicated to just advertising banners...in other words, banners are a multi-billion dollar business!
Banner Generator makes it so easy, there's no need for expensive graphics software that takes 2 years to learn...
Now you'll be on your way to creating banners for your product or service within minutes of installing the software!
Here are just a few of the benefits of Banner Generator:
No Graphics Experience Required
No Need To Buy Expensive Software
Saves You Valuable Time And Money
Creates Banners Easily With Just 4 Easy Steps
Here are some sample banners that were made
using Banner Generator Pro:




Our simple guarantee: Try it out. If you don't feel that Banner Generator suits your needs, email me any time within the first 8 weeks, and I'll give you a 100% refund. No questions asked.

I personally think you're going to love it.
YES! I want a copy of Banner Generator right now before the price goes up...I understand it could go back up to $47 without warning.
Click the button below to get your copy of Banner Generator for just $27

Paul Myers
TalkBiz Digital, LLC
651 E 24th St
Erie, PA 16503
(814) 452-2855
paul@talkbiz.com