This may be the easiest way to get new customers you'll ever see.
If you're not doing it, you can bet they're going to someone who is.
Whether you run your own local business or provide online services to others who do, this is the very first thing you want to get right online. Even before you set up a web site.


From: Paul Myers

You already know that most people don't use the phone book any more when they want to find a business. They use their phones or computers.
Straight to Google they go.
There are tons of people who'll tell you that you need a website and you have to do all sorts of content and optimize the whole thing for the search engines. It can take a lot of money and time to get that all set up and producing customers.
Frankly, for many businesses, it's worth it. Especially if you sell to a broad area or handle exclusive products.
For a small local business, though, there's a much faster (and easier) way to start picking up customers. You've seen it and almost certainly used it yourself.
It's this: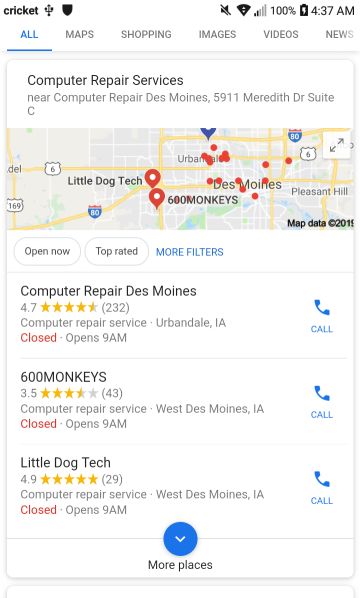 Look familiar?

That example shows the top Google My Business listings that come up for "computer repair des moines iowa." You may not have done that exact search, but you've looked for products and seen that layout, haven't you?

Probably bought from stores that showed up in those listings, too.


If You're Not There, You're Invisible
People search over a billion times a day for local products and services. Half of the searchers visit a store that same day.
Those are the people you're looking for. They want what you're offering, they have cash, and they're looking to buy - right now.
Most of them are looking in those map listings. They have everything a shopper could want. Location, hours of business, phone number, and even customer reviews and announcements of special deals.
If they don't find you in the results, they're probably shopping with your competitors.
You're invisible.
The good news: Getting there is easy.
In the introductory guide, we'll show you how to set-up and verify your Google business listing. We'll explain how to give Google what they want to help you get the exposure you need.
And we'll do it in simple, easy to follow steps. You can do it yourself, if you like.
Or, if your business is helping other businesses with their online presence, you can use this to add an easy front end sale and recurring monthly income to your bottom line.
And here's a secret: When you set this up for someone and they start seeing new customers from it, they will be more likely to buy your other services. This is the perfect lead product.
Nothing encourages trust quite like results.
That's Just The Start
That will get you in the game.
The next goal is to get into the "3 Pack."
The top 3 listings that show when someone searches for the product or service you offer.
When you hit that, you stand a much higher chance of them tapping that phone icon and calling you, or using the map to find their way to your door.
There are tricks to that. We'll show you the ones Google wants you to use. No black hat stuff here. Just the things that work.
We've included a guide on choosing the right keywords to use to get the attention of the hottest prospects. Even to focus on your most profitable services or products, if that's where you want to move your new business to.
Or to do the same for your clients, if you help other businesses with their marketing.
This isn't complicated stuff. It's just a matter of knowing what Google wants and giving it to them.
Along with that, we've got a guide to show you how to
improve your rankings
, so you can move up against your competition. And how to manage your listing to show folks looking at it that you're a solid business and someone they can trust.
Do that, and they show up ready to buy, and likely to spend more.
Speaking of The Competition...
There's another guide that shows you how to spy on them, legally and ethically. You can find out what's working for them and beat them at their own game.
Now you're into ninja tricks. Except the training is a lot easier and faster.
Another guide is a list of places you can get "citations." These are simple things, but Google gives them a lot of weight when decising how high to rank you in the map listings.
This is one your competitors probably have no clue about. Do them right, and they're like helium in your search balloon.
And Just a Little More News
You, that is. You are the news. Or, you can be.
You may not think the local media would have a lot of reason to promote you or your business, and you'd probably be right. If you don't give them one. Fortunately, that's easy.
Press releases are another thing your competition probably doesn't understand or use. Done right, they can get you the best kind of advertising there is, short of a personal referral:
Earned media.
Plus, they're an extra source of "citations," and they appear in places that Google gives special weight to: Local news sites.
So, you're going to get a brainstorming list of 50 reasons you might send out a press release. And to make the process easier, you're going to get templates for new product announcement and general releases. Both formatted the way news sites want to get them.
Just a little something extra for you or your clients to use to kick things up a bit.
Or maybe kick them up a lot.
To Sum It Up
You get the ...
Basic set-up guide, to get you listed in Google's business directory, quickly and easily. That puts you in front of

people who already want to buy

what you (or your clients) offer.
The advanced guide to show you how to manage and optimize your listing to

outrank your competition

and start floating your way upwards. The goal is the 3-pack, so your business is one of the first they see.
The guide to choosing and using the right "buyer keywords," so you get the attention of folks who are

looking for exactly what you want most to sell

.
The secret tricks to ethically and legally spy on your competition.

Learn from the work they've already done

and beat them at their own game.
The list of high quality citation sites,

that Google gives weight to

when deciding where you should be in their rankings.
The brainstorming list of reasons you can send out a press release.

Get local news sites promoting you

for extra kick.
... and the press release templates and worksheet, in Word doc format. This is easier than you'd imagine, and

the potential payoff could be huge

.
Let me warn you, right up front: These are not long, geeky diatribes. You're not buying anything complicated. These aren't the kinds of web design and SEO tricks I mentioned in the start of this.

It's not "guru" stuff, in other words.

They're short and deceptively simple "do it now" instructions. Follow them and you'll get results. And you'll start seeing them a lot sooner than by doing all that guru stuff.

If you've already done all that, though, this will add to it nicely.

And the price is certainly right.
Ready to get started? It's just $17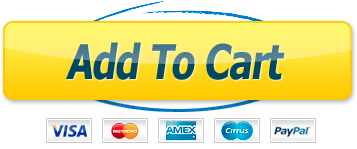 I have no idea what just one new customer is worth to you. Probably a lot more than that, and this can bring you in a lot more than one. And it can keep doing it on a regular basis.

If you provide marketing services to local businesses, this is an excellent intro product. Get those new customers coming in for them and they'll buy more services from you, and be happy for the chance to do it.

Plus, maintaining, updating, and monitoring these listings can be a source of extra money every month.

As you would expect, you get my 30 day guarantee. If you're not convinced this will work for you and pay off far in excess of that tiny investment, just let me know within that time. I'll refund your purchase in full. No questions asked.

Not a lot of risk here. But the potential payoff...

No fancy scarcity stuff, either. It's not going away, and I don't see the price going up on this any time soon.

I'll just offer this thought... You already know if you don't take advantage of this now you'll put it off forever. My advice is to grab it while you're here.

You could be bringing in new customers from it by this time next week.

Enjoy!


Paul Myers
paul@talkbiz.com


Copyright © 2019 - Paul Myers