Welcome!
If you're promoting your products to people who don't already know the quality you provide, you're familiar with the importance of

attractive design

for your sites and salespages. I'm not going to waste 20 minutes of your time telling you something you already know.

You also know what a pain it can be to get a decent site designed, especially if you haven't already got an in-house designer who's proved their skills.

Do you fit any of these descriptions?


You're an

experienced graphic designer

who wants to improve your skills and add to the services they offer your clients.
You're a

beginner

who wants to learn to design

effective sales pages

for the web, for your own products or as a business.
You create (or buy the rights to) a lot of products, and

don't want to wait

on a web designer who takes days (or even weeks) to deliver on a simple mini-site.
You have a webmaster you'd like to teach to do things more

quickly and creatively

.
You're new to online business, and want to

keep your costs low

, while providing quality products and a

professional image

.


If so, the answer is "

Project: Minisite

."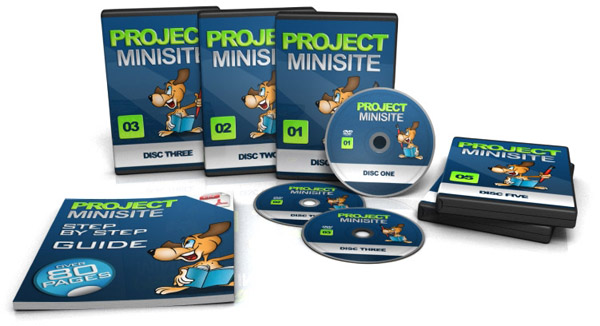 Created by Darren and Andy, the guys behind GraphicsGenie.com, Project Minisite is an extremely detailed (yet easy to understand and use) series of screen capture tutorial videos that give an easy to follow, step by step walkthrough of techniques 'real' minisite designers use to consistently earn high priced design jobs.
Project Minisite contains a whopping 29 easy to follow training videos, complete with a clear and concise 82-page PDF companion guide, that will have you turning out sleak, attractive minisites in no time at all. The steps described will work for any version of Photoshop from 7.0 to the most current editions.
NO design experience is needed! Each of the videos is designed for PC literate users who may never have even tried to create a web site. Project Minisite will guide you every step of the way with crystal clear audio and video.

That's easy.
The creators of the series have taught the concepts in Project Minisite to others…and they went from knowing absolutely nothing about creating minisites, to becoming near experts themselves, almost overnight. It's a skill that a lot of people will profit from, and that's my business. Teaching you to get more from your business.
So, I decided to buy the rights to the system and offer it to you. It's broken down into
29 step-by-step videos
that guide you to creating your own high quality minisites, with a minimum of time and effort in the process.
You'll also get downloadable PDF mini-tutorials, complete with screenshots to guide you step by step during the process.
I recommend that you print it out and keep it in a binder. That way you will always have your own "Million Dollar Minisite Manual" at hand. Once you've walked through the videos, the printed manual will allow you to go immediately to just the sections on which you might need a reminder.
You'll be amazed by how thorough and yet simple Project Minisite is…and once you download the videos…your have access to your very own "masters degree" education in minisite creation.
Simply put: Project Minisite is a phenomenal photoshop video course, and is designed to take an "average Joe" and turn him into a minisite wizard in an afternoon.
It's an instant DIY system that's simple, easy to follow, and potentially very profitable.

Simple: Minisites are always in demand.
In fact, there simply aren't enough talented designers around to satisfy the huge demand that the marketplace has for them.
That leads to problems. The really good designers are expensive, always backlogged, and can take weeks, or more, to get to your project. That's great for them, but it can create delays in getting a product to the market, and that can cost you a lot of money.
As an example, the folks at Graphics Genie who created this course charge a minimum of $197 to design this kind of minisite. They're well worth that price - if you can get them. And that's the trick.
On top of that, the demand has attracted a lot of people who are, shall we say, less skilled than one would like. On top of the delays created by needing to find someone to re-do the work of these amateurs, you've got the expense of paying for designs you simply can't use.
Now, there are other minisite courses out there. Some of them are pretty good, too, but they're also expensive. And most of them just don't give you this level of detail.
Project Minisite will show you - in depth - how to quickly and easily create rich, professional quality Minisites... that you can use yourself or sell to hungry buyers... in about the same time it takes you to watch the latest Hollywood movie.
Let's be clear here:
Project Minisite
doesn't require one bit of design experience... And you don't need to know how to write a single line of code. In fact: I hope you
don't know a THING
about minisites or even graphic design. You won't have any bad habits to unlearn.
You'll be creating Blockbuster Minisites within HOURS that will have your customers and clients raving:

That's an incredible value for this price, but it gets better...

I believe in overdelivering, so here's the deal:
If you decide that Project Minisite is for you, I am going to make Nine (9) KILLER extra Bonus Videos available to you with your downloads!
This is truly advanced, professional level training in Photoshop, and contains little-known tricks the instructors discovered over years of working as top-level designers and Photoshop users.
These additional videos are guaranteed to Blow Your Socks Off and help you gain entry to the ranks of the truly big gun designers.
This sensational bonus package is easily worth more than the cost of this whole course on its OWN, but it's yours at no extra cost for taking action today.
Ok - enough talk...

Forget about trial and error...Forget about driving yourself head-scratching nuts trying to re-invent the wheel - we've laid it all out for you.
All you need is a copy of Photoshop, and you can get one for 30 days FREE on a trial, and you are off to the races!
And for you more experienced marketers...If you are comfortable just doing the same old things, the same old way...you are just going to continue to get the same old results.
You're going to continue to get delayed and over-charged.
But that doesn't have to happen ever again when you have the power you get with Project Minisite.
Get started today.
Paul Myers

Project Minisite is sold under license by:
TalkBiz Digital, LLC - 651 E 24th St - Erie, PA 16503 - (814)452-2855