Do you want to develop android apps and make money with them, but don't know where to start?
Learn To
Create Amazing Android Apps From Scratch
Within 3 Hours, Publish Them On The Google App Store, And Start Making Money
Without Writing A Single Line Of Code!

The demand for app developers has tremendously increased in the past few years. However, there are not enough good developers, making it easy for you to step into this multibillion-dollar industry.
Even local businesses and entrepreneurs are getting their apps developed to improve their marketing outreach and to stay connected with their customers.
Introducing..

HOW TO CREATE ANDROID APPS
WITHOUT CODING.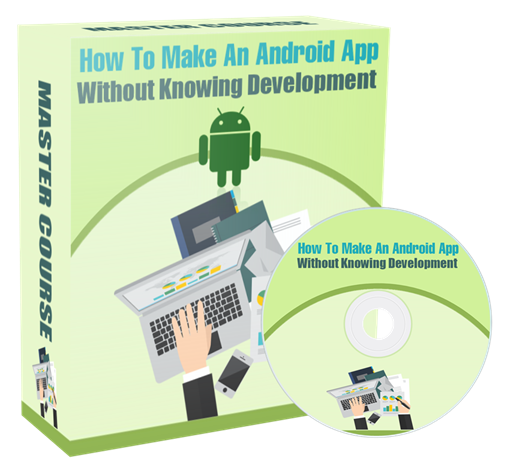 A Simple No BS Android Development Course That Will Teach You To Create Stunning Apps Within Hours.
All you need to know is how Android apps work, and we will take care of the rest. We will even lead you to free resources and content that you can use in your projects without paying anything.
This course is exclusively developed for absolute beginners who don't know anything about programming and want to become professional app creators without investing a lot of their time and money.

It is a step-by-step course where you will learn:
The core essentials that you need to know before you start creating an app.
The elements of an app, and how to deploy them.
Creating a database and connecting your app to it.
Sourcing royalty free images, icons, and content, and using them in your app.
Making your app look unique with the help of design and graphics.
How to test your app to see if it works the way you want it to work.
The process of getting your app published in the Google app store.
Simple steps to monetize your app so that you start making money.
And a ton of more tools, tips, and ideas that will rocket your app creation career to success stratosphere.
Businesses are paying serious money for a single app. Imagine how much you can make by creating custom apps for your clients.
Or how many new customers and sales you can make using an app for your own business.
After completing this course, you will know exactly what your client needs, the time and the resources required to create an app, and be able to quote a price without any confusion.
We have taken care to provide you with everything you need from getting started to publishing your first app, while keeping it as simple as it can be. You will be amazed how this course can help you, even if you never learned to code.
Sign up for "How To Create Android Apps Without Coding" and start your app development business today.

When you enroll, you also get:

Access to lifetime updates and videos we add to the course.
Guide to tools and tips to make your app development business efficient and more productive.
Bonus videos, tutorials, and resources that will decrease overwhelm and aid in your success.
You can create apps for clients and develop a steady and growing income as clients pay you monthly for maintenance, upgrades, and notifications sent to their users.

Or you can create entertainment and educational apps and make money from advertising provided by mobile ad networks.

And, of course, you can create apps for your own business. Highlight your skills, include contact methods and locations, notify your cuastomers of special offers, and more.

You can even start your own app agency!
So, what are you waiting for?
Don't Let Your Busy Schedule Keep You From Adding An Extra Income Stream Every Month.
JOIN NOW AND START CREATING ANDROID APPS WITHOUT CODING.
Get the complete course for just $10!